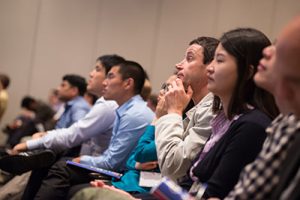 Professional development workshops are a growing feature of the ECS biannual meetings. Several new and recurring workshops being held at the 233rd ECS Meeting in Seattle, WA. The workshops are led by industry and career professionals in order to best serve the interests for mid- and early-career researchers and students.
New workshop additions
An Introduction to Intellectual Property
Instructor: Matthew Rappaport, IP Checkups, Inc.
In recent years intellectual property has become contentious with notable high-tech companies influencing patent rights. Nevertheless, IP continues to play a key role in the development and innovation ecosystem, particularly for start-ups and early-stage commercialization. In this short course, we will get down to basics in exploring the role of IP in protecting your early-stage development and commercialization. Along the way, we will review IP basics and explore portfolio development to help protect your inventions. Decisions such as internal R&D, strategic partnerships or licensing are informed by your portfolio. And finally, what to do when you have to enforce your rights. This workshop is 2.5 hours.