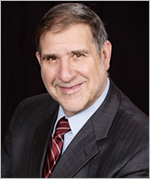 Long-time ECS member, editor of the Journal of The Electrochemical Society, and Distinguished University Professor at Case Western Reserve Robert Savinell has a new title to add to his list. Savinell will lead the U.S. Department of Energy's new Energy Frontier Research Center at Case Western Reserve University, in support of a research endeavor that focuses on identifying new battery chemistries with the potential to provide large, long-lasting energy storage solutions for buildings or the power grid. The project is made possible by an EFRC grant, which awarded $10.75 million to Case Western Reserve University, allowing the school to establish a research center to explore Breakthrough Electrolytes for Energy Storage.
The problem with batteries current state is storage, as it's difficult to maintain a large amount of electricity for long periods of time at low cost. This lack of storage capacity has affected solar and wind power growth as a result. Not to mention other industries. Savinell says having large-scale storage would also enable conventional coal- and gas-powered plants to run more efficiently instead of being fired up or cut back to respond to variations in customer energy needs.
Starting this fall, Savinell and his team will work on changing that. The scientists plan to use high-performing electrolytes to improve energy, power density, cost-effectiveness, and safety to revolutionize that battery field.
"We are honored to be selected by the Department of Energy for this award and excited to begin the work," says Savinell of the EFRC program, a program made to help keep the United States on the cutting edge of energy innovation, with a specific focus on fundamental energy-related research.
Numerous ECS members have received two-year extensions by the ERFC including Gerald Frankel,  Jeff Long, Sheng Dai, Hector Abruna, Stan Whittingham, Esther Takeuchi, and Daniel Cosgrove. They are among the scientists helping transform the world's rapidly growing energy demands.
AiMES 2018, taking place September 30–October 4, 2018, will draw in scientists from all over the world to present their work and discuss the future of batteries and more. ECS meetings offer scientists, engineers, and researchers the opportunity to come together and share results and discuss ideas and issues in the field. Don't miss it. Meet the innovators and leaders of the electrochemical and solid state field this fall.