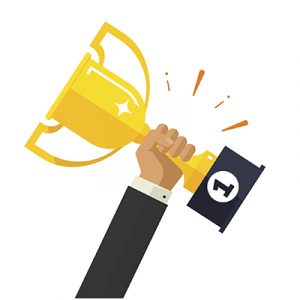 Young students entering the science field take on a significant amount of new material and learning in the classrooms, but that doesn't mean we can't learn just as much from them, too! ECS student chapters, ran and created by students themselves, inspire us every day. Their remarkable accomplishments and contributions to the Society not only help guide and encourage talented scientists and engineers around them but also contribute to the future and growth of the sciences.
That's why in 2012, the Society established the ECS Outstanding Student Chapter Award to recognize distinguished student chapters that demonstrate active participation in ECS's technical activities. That means chapters that have initiated outreach activities, coordinated community events, and created and maintained a robust membership base.
Does this sound like your student chapter? We want to award you for your hard work!
Apply by April 15 for a chance for your chapter to be the recipient of the 2019 Outstanding Student Chapter Award. Awardees receive a recognition plaque, $1,000 USD in additional student chapter funding, and additional recognition throughout the Society in Interface, the ECS blog, and more.
2018 recipients
Last year, ECS recognized three student chapters for their remarkable work and commitment:
2018 Outstanding Student Chapter: ECS University of Washington Student Chapter
Last year, the ECS University of Washington Student Chapter (ECS@UW) sponsored several academic seminars, professional workshops, and outreach events.
ECS@UW performed multiple electrochemical experiments for K-12 students. One was the popular Enginearrings experiment involving the anodization of titanium wires into colorful jewelry. This experiment was showcased at UW's Engineering Discovery Days, which reached over 10,000 attendees. Additionally, ECS@UW collaborated with the UW Clean Energy Institute to teach AP chemistry students at Newport High School about galvanic cells, fuel cell cars, and aluminum-air batteries.
Last spring, ECS@UW hosted its second annual industry panel in partnership with the student organization Diversity in Clean Energy. Six panelists were selected according to the themes of clean energy and data science. These panelists fielded questions on start-ups and transitioning from academia to industry.
And on another occasion, ECS@UW hosted a workshop in which members learned to create their own web page and professional social media presence.
Finally, senior ECS@UW members led various educational seminars. This consisted of several series on fundamentals, characterization techniques, and notable contemporary applications. Similarly, eight Python tutorials were held prior to the 233rd ECS Meeting, providing valuable coding experience prior to ECS Data Sciences Hack Week.
Other opportunities for growth included the chapter's ongoing Coffee Talk series with guest lecturers and the similarly themed Coffee & Electrochemistry summer book series which, this year,
worked through Electrochemical Methods by Allen J. Bard.
The chapter looks forward to the continued involvement of the many individuals it proudly calls its members.
2018 Chapter of Excellence: ECS Lewis University Student Chapter
The ECS Lewis University Student Chapter had an exciting 2017–2018 academic year. The chapter's main goal was to increase STEM awareness through interactions within the community. The chapter successfully hosted a bike-a-thon fundraiser called Pedal for Preemies that raised $5,000; all proceeds were donated to the Loyola Neonatal Intensive Care Unit.
The chapter hosted numerous community demonstrations, encouraging children and their families to participate and be hands-on with science. The Chemistry Department also hosted Shipwrecked, a yearlong competition in which students from local high schools were mentored by chapter members in the construction of an efficient and effective water filtration system.
The chapter is looking forward to another exciting year of integrating science into the community.
2018 Chapter of Excellence: ECS University of Virginia Student Chapter
The ECS University of Virginia (UVA) Student Chapter, founded in 2006, was one of the earliest ECS student chapters. The chapter currently has 36 active members with backgrounds in materials science and engineering, chemical engineering, mechanical engineering, and chemistry. Its current advisor is Professor Giovanni Zangari.
During the 2017–2018 academic year, the UVA Student Chapter facilitated the advancement of theory and practice of electrochemical and solid state science and technology by hosting technical seminars, conducting exceptional research, and sharing research results in these areas that foster collaborations. The chapter also disseminated knowledge in these fields through journal publications, research presentations, and public promotion, including open house experimental demos and laboratory tours.