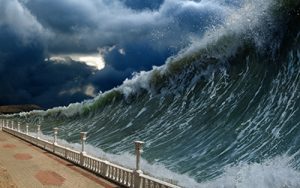 On a Friday afternoon in 2011, residents of northeastern Japan were hit by a six minute earthquake—shifting the country's main island by eight feet— triggered powerful tsunami waves that reached up to 120 feet in height,
according to Futurity
.
Tsunami warnings had initially broadcasted minutes before its arrival; unfortunately, underestimating its size. Many failed to evacuate to higher ground as a result; a total of 15,894 deaths resulted from the natural disaster. Japan has since installed a network of seismic and pressure sensors on the ocean floor that have raised the bar for tsunami early-warning systems worldwide.
New research, which appears in Geophysical Research Letters, suggests how warnings could be more accurate by combining data streaming in real-time from sensors, like those in Japan, with tsunami simulations.