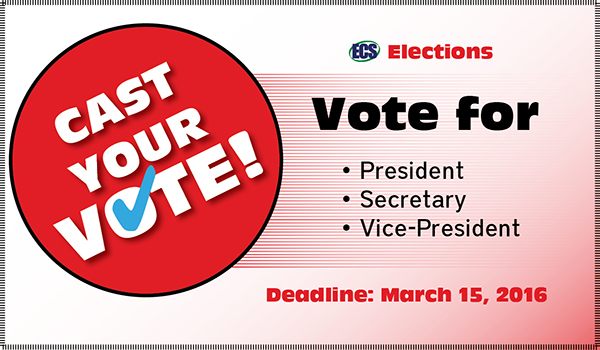 (Really, if you have one, add it to the comment below, immediately after you cast your vote)
ECS elections are now open! Members can vote now.
Thinking isn't agreeing or disagreeing. That's voting.

– Robert Frost
Did you know
The very first President of ECS was Joseph W. Richards, a metallurgical engineer of international reputation? Prof. Richards was a charter member and principal organizer of The Electrochemical Society. He was the only ECS president to serve two consecutive terms, in 1902 and 1903.
Fast forward to over one hundred years later where you, as a valued voting member of The Electrochemical Society, have to power to select the next president, vice-president and secretary. The exceptional candidate pool are proven professionals within the field who are also dedicated Society volunteers.
Take a moment to vote for those who will continue to lead the organization as a steward of electrochemical & solid state science and technology.
Electronic Voting Instructions
Read the candidate biographies offer background information and candidate statements
Proceed directly to the electronic proxy to access the balloting system.
Enter your ECS ID and password. Your password for the electronic proxy is your last name entered in lower case.
After you log on, your electronic proxy ballot will appear. Enter your vote for each office. Space is provided if you choose to write in a candidate. You can only vote once.
NOTE: If you don't know your ECS ID go to electrochem.org and log in. It's at the top of the screen. Use your ECS username and password. Click on MY ACCOUNT. You'll see ECS ID right under the title MY PROFILE.
If you have trouble logging into the system, contact Marcelle Austin at 609.737.1902, ext. 124 or marcelle.austin@electrochem.org.
The voting deadline is midnight ET March 15, 2016.