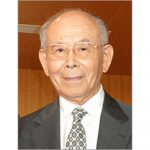 The Electrochemistry Society mourns the passing of Nobel Laureate and long-term member, Isamu Akasaki, on April 1, 2021.
"The world knew Isamu Akasaki as the pioneering scientist who invented the blue LED. At the Society, we came to know him on a more personal level during his 35-plus years of membership. We tracked the extraordinary progress of Professor Akasaki's research at ECS meetings and in ECS journal articles. We also noted his remarkable humility and how he always credited his success to the support of co-researchers, students, and colleagues. Prof. Akasaki was both a leader in the field, and mentor to a generation of scientists following his lead in finding solutions to reducing global dependence on fossil fuels," said Christopher Jannuzzi, ECS Executive Director and Chief Executive Officer.
In a 2017 interview with then ECS Vice President Yue Kuo, Prof. Akasaki described his personal philosophy with a quote from another ECS member: "No pain, no gain. As Thomas Edison said, 'Genius is one percent inspiration and 99 perspiration.' I say this to younger people: experience is the best teacher. Sometimes there is no royal road to learning." (Edison was an ECS member from 1903 – 1931.)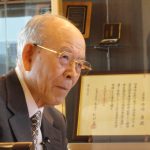 Prof. Akasaki joined ECS in 1985. Throughout his long career, he attended numerous Society meetings and published multiple papers in ECS journals. His distinguished contributions to the field of solid state science and technology—and the Society—were recognized with the 1999 ECS Gordon E. Moore Medal for Outstanding Achievement in Solid State Science and Technology. The Society honored Prof. Akasaki with Life Membership in 2013. The ECS Journal of Solid State Science and Technology devoted a Focus Issue to Prof. Akasaki in 2000: Recent Advances in Wide Bandgap III-Nitride Devices and Solid State Lighting: A Tribute to Isamu Akasaki. 
Prof. Akasaki is best known for winning the 2014 Nobel Prize in Physics with Hiroshi Amano and Shuji Nakamura for "the invention of efficient blue light-emitting diodes, which has enabled bright and energy-saving white light sources." His work in semiconductor technology earned him the Kyoto Prize in Advanced Technology and IEEE Edison Medal. Prof. Akasaki shared the 2021 Queen Elizabeth Prize for Engineering for the development of LED lighting with Shuji Nakamura; Nick Holonyak, Jr.; M. George Craford; and Russell Dupuis—all of whom interacted with ECS throughout their careers, publishing much of their critical research in Society journals. Holonyak, Jr. is also an ECS Emeritus Member.