Call for Papers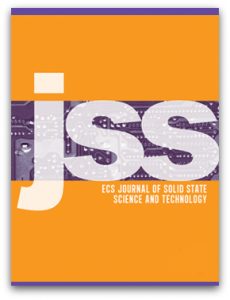 The ECS Journal of Solid State Science and Technology is publishing a focus issue on molecular electronics, covering emerging molecular electronic devices and allied topics. This issue features novel molecular systems, their organization or their grafting on surfaces, and their integration in molecular junctions or molecular transistors of various sizes. It presents transport mechanisms within such systems, new paradigms, and new electronic and optoelectronic functionality obtained using molecules as the active components in devices (rectifiers, transistors, memories, etc.). Also addressed is the development of devices of academic and technological interest with superior properties and size shrinkage advantages. The needed characterization tools (spectroscopic, microscopic, etc.) are of interest, too.
This virtual issue focuses on papers covering the following topics:    
Single Molecule Junctions: Memories and Switches
Large Area Junctions: Memories and Switches
Organic Electronics and Spintronics: Molecules and Devices
Organic Optoelectronics and Photonics: Molecules and Devices
2D Systems, Nanotubes, Nanowires, Nanosheets
Self-Assembly and Supramolecular Architectures
Scanning Probe Microscopies and Near Field Approaches
Carrier Transport and Device Theoretical Simulation and Modelling
Reviews, critical reviews, and perspective papers welcomed.
Accepting Submissions: March 4, 2021 | Submission Deadline: June 2, 2021

(At the time of submission, indicate that the paper is intended for the Molecular Electronics focus issue.)
Visit the ECS website for author submission instructions and requirements of each article type.
---
Guest Editor
Jean Christophe Lacroix, Université de Paris, France | lacroix@univ-paris-diderot.fr
Technical Editor
Krishnan Rajeshwar, The University of Texas at Arlington, U.S. | rajeshwar@uta.edu
Editor-in-Chief
Krishnan Rajeshwar, The University of Texas at Arlington, U.S. | rajeshwar@uta.edu
---
Articles are published in a standard issue of the journal as they are accepted. If selected at submission, accepted papers are published online in the ECS Digital Library within 24 hours of scheduling for publication. The version of record is published online within approximately 10 days of final acceptance.
OPEN ACCESS: As part of the Author Choice Open Access program, authors can select to have their papers published as open access. If open access is selected at the time of submission, authors must agree to pay an article processing charge (APC) if the paper is accepted. ECS members receive a 75 percent discount on all APCs. All discounts are applied at the time of payment. Authors from ECS Plus subscribing institutions are eligible to have APCs waived. Check if your institution subscribes to ECS Plus.