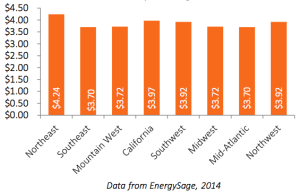 If you haven't embraced solar energy yet, it may be about time to do so. After all, it is cheaper than grid energy in 42 of the 50 largest cities in the United States.
According to the study "Going Solar in America: Ranking Solar's Value in America's Largest Cities," a fully financed solar system costs less than residential grid energy purchased in over 80 percent of the largest U.S. cities. Additionally, 9.1 million single-family homeowners live in a place where their utility bill outpaces what solar would cost.
The falling cost of solar panels and solar fuel cells is largely driven by, in part, research into new materials and developments in the sciences. Check out a few interesting reads on solar energy from the ECS Digital Library:
The Lawrence Berkeley national Laboratory reports that the median cost of residential solar has gone from approximately $12/W in 1998 to about $4.70/W in 2013. Pair this more than 60 percent decline with the rising cost of grid electricity, and solar's value to the customer becomes all the more clear.
Because of these scientific breakthroughs leading to the price decline in solar, more people are investing and federal, state, and local incentives and public policies are being established. If you're in the United States, click here to check out what your state is doing.
This new report by the North Carolina Clean Energy Technology Center makes clear that solar isn't just environmentally crucial, it's also economically viable. Make sure to check out the full report here.
[Source:
Greentech Solar
]