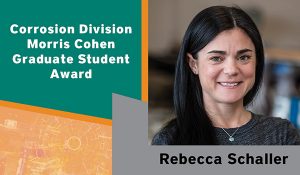 …and the 2018 Corrosion Division Morris Cohen Graduate Student Award goes to Rebecca Schaller of, The University of British Columbia in Canada!
Each year, the ECS Corrosion Divisions offers the Morris Cohen Graduate Student Award to recognize academic achievements in corrosion science and/or engineering. The next nomination deadline is December 15, 2018. Apply today!
Rebecca Schaller is currently an assistant professor in the Department of Materials Engineering at the University of British Columbia in Vancouver, Canada.
She earned a BS degree in Spanish in 2005 from the University of Oregon and an MS degree in Physics from Portland State University in 2010. Rebecca received her PhD in Materials Science and Engineering from the University of Virginia in 2016 under the direction of John R. Scully. Her work focused on developing techniques to probe local scale hydrogen concentrations and interactions in ultra-high strength steels, specifically those produced under atmospheric exposure.
During her graduate studies, Rebecca received an Endeavour Research Fellowship which was carried out in collaboration with Monash University and the Commonwealth Scientific and Industrial Research Organization in Clayton, Australia.
Since her time at UVA, Rebecca has worked as a postdoctoral assistant at Sandia National Laboratories in the Materials Aging and Reliability group where her research focused on the local chemical and morphological effects of atmospheric corrosion of aluminum and corrosion of additively manufactured materials. She has recently begun her position as assistant professor at UBC where her current work will incorporate an emphasis on understanding corrosion at the local, microstructural level to better predict overall corrosion properties and rates.
---
At AiMES2018, Rebecca delivered the Cohen award talk entitled Local Hydrogen Detection Techniques for Atmospheric Uptake in Ultra-High Strength Steels.