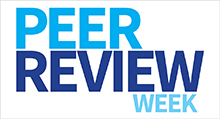 This week (September 28-October 2, 2015) marks the first-ever Peer Review Week, a community-driven movement to discuss and celebrate the peer review process. Peer Review Week serves as a forum to take a deeper look at the heart of scholarly communications.
Peer review is not only critical for assuring high-quality science is published, it is also a crucial part of how society perceives published science and how reputable it is to the world at large.
Often we take the peer review process for granted, but it is something that requires a tremendous amount of time and coordination. Editors, reviewers, and authors all work together to ensure the publication and release of the best possible science for everything from journal publications to papers being presented at meetings.
To aid in the recognition of all things peer review, ECS has compiled a list of some exciting events occurring this week, as well as some suggested reading for those who are interested in learning more about peer review and what it does for the scholarly community.
If you're not sure what Peer Review Week is all about, the Scholarly Kitchen shared a great primer earlier this month. Among other things, the post discusses the importance of peer review, who's celebrating this year, and some key events to look forward to in the next several days.
For those of you who are interested in the peer review process (or if you're interested in becoming a peer reviewer yourself!) Sense about Science has created a fantastic guide for early career researchers that explains the process, the benefits, and the limitations of peer review. While the guide is on the lengthy side, it shares some great insight, most of which is provided by editors from a variety of peer reviewed journals.
If you're looking for something a little more interactive, Wiley will be hosting a free webinar on Trust and Transparency in Peer Review later this week. Presenters include Kent Anderson (Publisher at AAAS/Science), Alexander Grossman (President of Science Open), Laure Haak (Executive Director of ORCID), and Andrew Preston (Co-founder of Publons).
Later this week, ORCID is scheduled to share details on the first implementations of their new peer review functionality (announced earlier this year), which will allow the recognition of peer review activities on ORCID records.
Last, but certainly not least, ScienceOpen will be adding a thematic (and open access!) bundle on peer review to their collections.
For more reading, events, and announcements related to Peer Review Week, you can follow the twitter campaign #peerrevwk15, as well as the ECS Redcat Blog to get more information on our reviewers, the peer review process in our journals, and the future of scientific dissemination.
PS: Do you know how peer review works here at ECS? Find out.