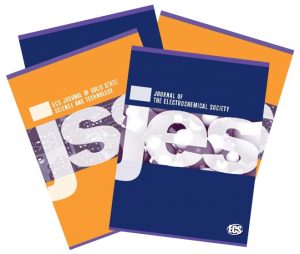 ECS prides itself on publishing high-quality, rigorously vetted content in its peer-reviewed journals, the Journal of The Electrochemical Society and the ECS Journal of Solid State Science and Technology.
As one of the last remaining independent, nonprofit society publishers of electrochemical and solid state science and technology, ECS is committed to the provision of valuable and efficient services for its authors, whose research accelerates advances toward sustainability on a global scale.
Success in this endeavor requires the Society's constant critical attention—to its authors, its publications, and vacillating trends in scholarly publishing.
To that end, ECS would like your feedback.
After over 115 years of peer-reviewed research, what is it that keeps authors publishing in ECS journals? In what ways do ECS journals excel?
To those who have opted to publish elsewhere, how might ECS journals adapt to meet your needs as an author? What aspects of ECS journals need reexamination?
Above all else, what do you look for in a scientific journal?
Whether you're a proponent or a critic of ECS journals, please take a few minutes to tell us more.

Any feedback you are able to provide—positive or negative—will assist ECS in evaluating the strength and scope of its peer-reviewed journals.
Share your thoughts today to help shape the future of these publications!