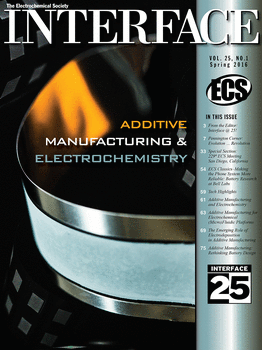 Calling all ECS members! Has your section or student chapter achieved something momentous in recent months, or will it do so before mid-October? Tell us about it and you just might see your submission published. ECS wants to highlight YOUR news in the Winter 2016 edition of Interface!
ECS takes pride in its members and is consistently honored to call attention to their accomplishments and share their stories. Please do not hesitate to inform us of noteworthy events or developments in your section or student chapter. We want to recognize your successes!
Please note: While Interface actively encourages submissions of news from sections and thus places few restrictions upon them, certain guidelines must be adhered to in preparing submissions.
Interface Section News submissions must be:
Timely: Event in focus occurred within the past 6 months.
Detailed: Be thorough, specific, and extra attentive to name spellings and titles.
Editable: Do not format documents. Do not embed pictures in text. Give only the picture caption and attach pictures separately as individual files.
Keep in mind:
Photographs tell a better story.
Submission length must be reasonable.
Need more information? Check out the links below, which provide more extensive submission guidelines.
Interface General Submission Guidelines
Interface Student News Submission Guidelines
Please send all submissions to customerservice@electrochem.org by Monday, October 15.
Planning to submit to Interface sometime next year? The 2017 submission deadlines are listed below!
Spring 2017 Issue: January 15, 2017
Summer 2017 Issue: April 15, 2017
Fall 2017 Issue: June 15, 2017
Winter 2017 Issue: October 15, 2017
We eagerly await your submissions!