ECS is seeking to fill the position of technical editor of the electrochemical engineering topical interest area for the Journal of The Electrochemical Society.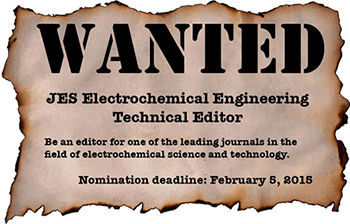 The topical interest area includes industrial electrochemistry, the mathematical modeling of electrochemical reactors and devices, electrochemical machining, and the electrochemical synthesis of compounds. Specific topics include: kinetics, selectivity, and yields; mass, momentum, and heat transport; and electrode designs and evaluation.
Self-nominations and third-party nominations are due no later than February 5, 2016.
Full applications are due no later than February 12, 2016.
Please share with anyone you feel would be a good candidate.