Student membership is fundamental to ECS. Without student members—its inquisitive, innovative minds—the ECS would not be the thriving organization it is today.
The ECS has put down roots in academic institutions around the world that grow each and every day. ECS staff recently analyzed membership data to determine which academic institutions had the greatest presence based upon student ECS membership.
The chart below lists the top 40 academic institutions based upon student ECS membership.
Note: This analysis recognizes only student ECS members in good standing. Expired members were not taken into account.
Check out the chart to find out if your institution made the list!
Top 40* Academic Institutions by Student ECS Membership
Not a student member? Explore the benefits of student membership and join the ECS today!
Lost your institution's spot on the list due to expired members? Remember to renew your ECS membership!
Want to set up your membership to renew automatically? Now you can! Enroll in our automatic renewal system!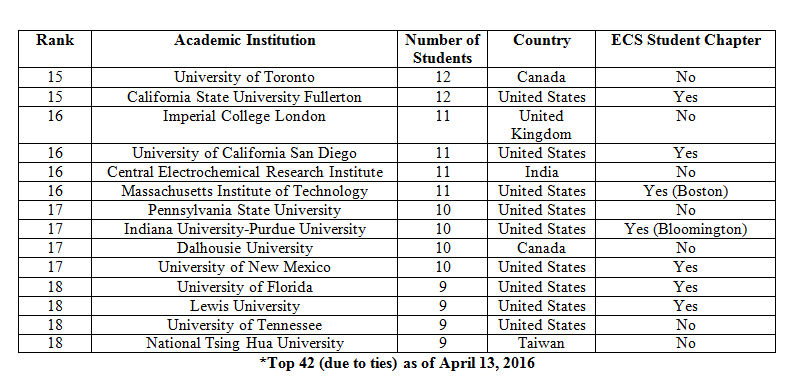 Does your academic institution have 6 or more ECS student members? Get started on forming an ECS student chapter today! Check out the links below!
Guidelines for forming a student chapter
Application for forming a student chapter
Contact customerservice@electrochem.org with any questions about ECS membership!