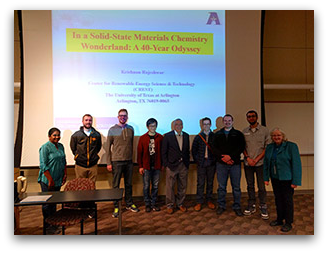 ECS senior vice president and professor at the University of Texas at Arlington, Krishnan Rajeshwar, recently visited the University of Iowa's ECS Student Chapter to discuss research, meet with faculty, and deliver a lecture on solid state materials.
Rajeshwar's research touches areas ranging from the first demonstrated use of ionic liquid electrolytes for electrode stabilization in photoelectrochemical (PEC) devices to novel approaches to the electrosynthesis of binary and ternary semiconductor thin films.
Recently, his studies have addressed the use of solid state chemistry principles to the design of electrodes for energy conversion and solar fuel generation. Rajeshwar applied some of these concepts to his lecture, "In a Solid State Materials Chemistry Wonderland: A 40-Year Odyssey," which he delivered to the ECS Student Chapter at the University of Iowa.
(MORE: Check out additional research by Rajeshwar.)
Throughout his visit, Rajeshwar met with the faculty from the university's departments of chemistry and engineering, discussed science and current events with student members, and was hosted to dinner by ECS 2nd vice president Johna Leddy.