"R&D Efforts in Energy Storage Technologies for the Grid at Pacific Northwest National Laboratory"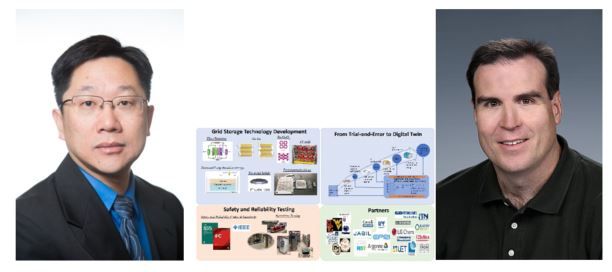 Speakers David Reed and Wei Wang discuss efforts at the Pacific Northwest National Lab (PNNL) to:
Accelerate the acceptance of energy storage technologies for grid-scale applications;
Investigate new and existing technologies to improve materials and systems that directly impact performance;
Create a digital twin battery to accelerate energy storage discovery and development.
This is the first webinar in a quarterly series offered by the ECS Pacific Northwest (PNW) Section.
Upcoming ECS PNW Section Webinars
Date
Name
Institution
Topic
February

Kelsey Stoerzinger & David Ji

Oregon State University

Operando Surface Science in Electrochemical Systems/Materials for Aqueous Rechargeable Batteries

April 8
(quarterly)

Daniel T. Schwartz

University of Washington

Physics-based electroanalytical approaches for understanding whole battery cells

Early May

Industrial Day

Microsoft, Gamry, Boeing, IBM,  Thermo Fisher Scientific

Organizers: Corie Cobb (UW) and Shannon Boettcher  (UO)

6/10 @ 1000h PST

Dong Ding

Idaho National Laboratory

Electrochemistry at Intermediate Temperatures: A Playground for Electrochemical Processing using Solid Oxide Electrochemical Cells

July
(quarterly)

Shannon Boettcher

University of Oregon

Accelerating Water Dissociation in Bipolar Membranes and Electrocatalysts

September

Bo Zhang
University of Washington

Single-Molecule Imaging of the Electrochemical Interface

October
(quarterly)

Michael Ware
Boeing

Aerospace Batteries
The ECS PNW Section is planning at least two events per year; quarterly seminars open to the world; monthly seminars for the PNW section; and an industry day to help students and young scientists in Washington State, Oregon, and Idaho grow their careers in electrochemistry.
How to participate in upcoming ECS Pacific Northwest Section webinars
The ECS community is welcome to register;
ECS membership is not a pre-requisite for participation, however, to register you must create an ECS MyAccount;
To receive notifications on when registration opens for upcoming webinars, sign up for the ECS eNews in your ECS My Account;
To register, visit Events in your ECS My Account.
Consult the ECS blog for more information about the ECS Pacific Northwest Section.
If you are interested in membership with ECS and/or the ECS Pacific Northwest Section, please contact Customer.Service@electrochem.org.