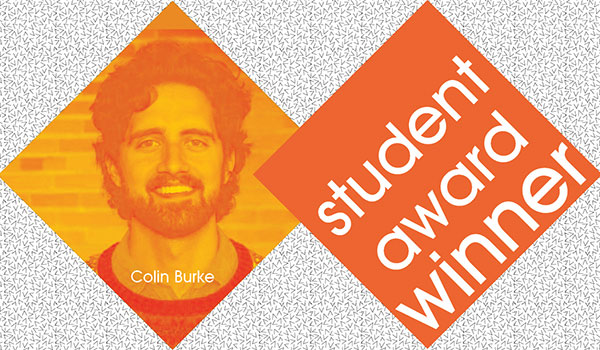 Don't discount the honorable mention!
Each year, the ECS San Francisco Section recognizes a deserving undergraduate student from a college or university in Northern California though the San Francisco Section Daniel Cubicciotti Student Award. The award was established in 1994 to assist a deserving student to pursue a career in the physical sciences or engineering. The award was created to honor Daniel Cubicciotti, a distinguished researcher in his own right. Recipients receive an etched metal plaque and $2,000 prize. In addition, the San Francisco section recognizes up to two additional students with an honorable mention: a framed scroll and a $500 prize.
---
Colin Burke is a PhD candidate and NASA Space Technology Research Fellow in the Department of Chemical and Biomolecular Engineering at the University of California, Berkeley, working with Assistant Professor Bryan McCloskey.
Burke's thesis research at Berkeley is studying and developing the lithium-oxygen battery. The lithium-oxygen battery has an extraordinarily high theoretical specific energy, or energy per mass. Consequently, the battery could be a significant improvement for electric cars, aircraft, and space technologies. Unfortunately, practical realization of a high-capacity, rechargeable battery is limited by fundamental electrochemical challenges, including conductivity limitations of its primary discharge product, lithium peroxide, and electrolyte and cathode instabilities. Burke's research focus has been on engineering the battery's electrolyte toward addressing these challenges and achieving lithium-oxygen batteries with higher capacities and better rechargeability.
Burke earned his Bachelor of Chemical Engineering in 2013 from the University of Minnesota – Twin Cities. He completed undergraduate research in the mechanical properties of graphene oxide and polymer nanocomposites at Northwestern University with Professor Cate Brinson and Research Professor Karl Putz.
---
The San Francisco Section held the Cubicciotti award ceremony on July 13, 2017 on the campus of the University of California, Berkeley.
The annual nomination deadline for the San Francisco Section Daniel Cubicciotti Student Award is January 31, 2018.