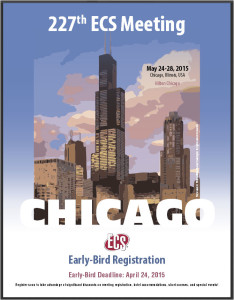 Early-bird registration is now open!
Register by April 24, 2015 to take advantage of significant early-bird discounts.
The 227th ECS Meeting will be held downtown at the historic Hilton, Chicago and will include over 50 topical symposia consisting of over 2,000 technical presentations, full-day short courses, professional development workshops, career opportunities, poster sessions, a dynamic technical exhibit and the 3rd annual Free the Science 5K Run. The 227th ECS Meeting is expected to attract over 2,000 scientists and engineers from industry, government, and academic institutions.
Scientists, engineers, and industry leaders come from around the world to attend the technical symposia, poster sessions, panel discussions, professional development workshops, special summits, and networking and social events offered throughout the course of each meeting.
Meeting Registration
Don't miss out on substantial savings; register by the early-bird deadline of April 24, 2015!
Hotel Reservations
Book your room at the Hilton Chicago today! We strongly encourage you to stay at the meeting headquarters hotel, where your stay will be most enjoyable and convenient. Please note, reservations attempted after April 24th will be accepted on a space and rate availability basis.
Events-at-a-Glance
Be sure to join us for the Sunday evening get-together at 1900h, the can't miss Plenary Session—including the ECS Lecture and Awards Presentation on Monday at 1700h, the Free the Science 5K run, the technical exhibit, poster sessions on Tuesday and Wednesday, luncheons, and much more!
Free the Science 5K
Don't forget your running shoes for the third ECS Free the Science 5K! Enjoy a refreshing morning run—and see if you can beat two-time Free the Science 5K winner Matthew Thomas Lawder as you race toward the finish line. This year, we will also offer a one-mile walk at the time of the race.
Proceeds from the event will benefit the ECS publications endowment. Join us for an invigorating morning in support of ECS's open access initiative!
ECS Transactions
Author for Chicago "enhanced" issues are encouraged to submit their papers by February 20, 2015. Additionally, all ECST authors that are submitting for "standard" issues have until June 7, 2015 to submit their papers. Click here for information regarding specific symposia deadlines. Questions? Please contact ECST at ecst@electrochem.org
Short Courses
Three Short Courses will be offered in Chicago on Sunday, May 24, 2015, from 0900h to 1630h. Pre-registration for Short Courses is required, sign up today—the deadline is April 24, 2015.
Membership
Join ECS today and save 15-20% on meetings! Already a member? Renew your membership before the early-bird registration deadline. Log into your ECS member account and renew today! Questions about membership in ECS? Contact customerservice@electrochem.org.
For more information please download the 227th ECS Meeting Registration brochure. For further assistance please contact meetings@electrochem.org.
We Thank Our Exhibitors and Sponsors!
There is still time to join us as an exhibitor or sponsor, please click here to review the exhibit and sponsorship brochure or contact becca.compton@electrochem.org for further information.
Deadline to participate as an exhibitor or sponsor is February 20, 2015!