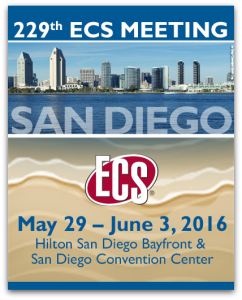 There are less than 30 days left to submit your abstracts for the 229th ECS Meeting! Make sure to submit by December 11, 2015.
Topic Close-up #6
SYMPOSIUM H03: Properties and Applications of 2-Dimensional Layered Materials.
FOCUSED ON electronic, optoelectronic, mechanical and chemical properties and potential applications of 2D layered materials with the focus on boron nitrides, silicene and germanene, graphene, transition metal dichalcogenides/oxides, and group-IV and group-III metal chalcogenides.
NOTING THAT the symposium includes materials preparation, growth, processing, devices, chemistry, physics, theory and applications, it also provides a forum for researchers, scientists and engineers from different countries worldwide, who are actively involved in the research on 2D layered materials to disseminate their latest research results and developments. Learn about all the topics!
Did You Know?
Students can be eligible for the General Student Poster Session awards by submitting an abstract to Z01 – General Society Student Poster Session.
Invited Speakers
Ali Javey, UC Berkeley (U.S.)
Borris Yakobson, Rice University (U.S.)
Gui-Hua Yu, UT Austin (U.S.)
Han Wang, University of South California (U.S.)
Hyeon Suk Shin, UNIST (South Korea)
Hyeon-Jin Shin, Samsung (South Korea)
James Hwang, Lehigh University (U.S.)
Kevin Jones, University of Florida (U.S.)
Joshua Robinson, Penn State University (U.S.)
Kaustav Banerjee, UCSB (U.S.)
Keun Su Kim, Postech (South Korea)
Gengchiau Liang, National University of Singapore
Kian Ping Loh, National University of Singapore
Ludwig Bartels, UCR (U.S.)
Manish Chhowalla, Rutgers (U.S.)
Mark Hersam, Northwestern University (U.S.)
Mauricio Terrones, Penn State University (U.S.)
Mei-Yin Chou, Institute of Atomic and Molecular Sciences (Taiwan)
Michael S. Arnold, University of Wisconsin-Madison (U.S.)
Sang-Woo Kim, Sungkyunkwan University (South Korea)
Taishi Takenobu, Waseda University (Japan)
Valeria Nicolosi, Trinity College Dublin (Ireland)
Robert Wallace, UT Dallas (U.S.)
X.F. Duan, UCLA (U.S.)
Xiaodong Cui, HKU (China)
Hua Zhang, Nanyang Technological University (Singapore)
The 229th ECS Meeting will be held from May 29 – June 3 in San Diego, CA. This major international conference offers a unique blend of electrochemical and solid state science and technology and serves as a major forum for the discussion of interdisciplinary research.
Full papers presented at ECS meetings will be published in ECS Transactions.
Important Dates