Deadline for Submitting Abstracts
March 16, 2018
Submit today!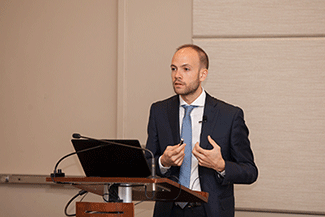 Topic Close-up #1
Symposium H02: High Purity and High Mobility Semiconductors 15
Symposium Focus: The 15th High Purity and High Mobility Semiconductor symposium, which is an extension of the previous High Purity Silicon symposium, provides a forum for discussion of the latest developments in the growth, characterization, device processing, and applications of high purity and high mobility semiconductor materials in either bulk or epitaxial form. The emphasis is on the control and prevention of impurity incorporation, characterization and detection of defects and impurity states in high purity and high mobility semiconductors for superior device performances. Device and circuit aspects related to the use of devices on high quality and advanced silicon wafers will also be addressed. Special attention will be given to alternative and high-mobility substrates and their material and device aspects.
Keynote Presentation: Dr. Carlos Mazure will deliver a keynote presentation on :Silicon-on-Insulator based applications and products". Dr. Mazure is the Executive Vice President and Chief Technical Officer at SOITEC, France.