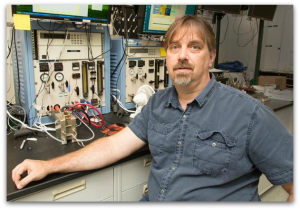 Rodney Borup of the Los Alamos National Laboratory will be awarded the 2015 Energy Technology Division Research Award for his pioneering work in energy conversion and storage, specifically related to sustainability and fuel cells.
The prestigious award was established in 1992 to encourage excellence in energy related research.
Dr. Borup is widely recognized for his work in fuel cell transportation with such corporate and academic organizations such as General Motors and Los Alamos National Laboratory (LANL). He joined LANL in 1994 as a post-doctoral researcher, where he would eventually move on to become the Program Manager for the Fuel Cells and Vehicle Technologies Program and Team Leader for Fuel Cells Program —titles which he currently holds.
With 13 patents, over 100 papers authored, and more than 100 papers presented at international meetings – Dr. Borup is highly recognized among the scientific community for his outstanding research.
Take a peek at Dr. Borup's abstract for his award address entitled, "PEM Fuel Cell Electrode Layer Degradation."
The award will be presented at the 227th ECS Meeting in Chicago this May. Early-bird registration for this meeting is now open.
Want to see more of Dr. Borup's research? Take a look at this open access paper on polymer-electrolyte fuel cells! And make sure to read all of the Digital Library.