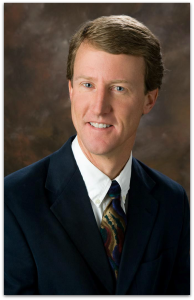 Scott Lillard is currently the Professor & Carboline Endowed Chair in Corrosion at the University of Akron, where he leads academic research and is and major contributor to the establishment the university's new Corrosion Engineering program. He has recently been appointed to the ECS Electrochemical Science & Technology (EST) Editorial Board as an Associate Editor for a two-year term beginning July 1, concentrating in the Corrosion Science and Technology Technical Interest Area.
What do you hope to accomplish in your new role as the EST Editorial Board Associate Editor?
I have some experience working on the board of some other journals, but I don't think that's what I really contribute. What I contribute is this idea of customer service. There are a number of reasons why people publish in the journal. It might be the appropriateness of the content or the impact factor, but the third reason is probably customer service. What does that mean? That means getting good peer reviews in a timely manner and treating the authors in a professional manner.
How do you think peer reviewed journals have changed over the years?
I think the goals of authors are the same as they were 20 years ago. They want to get their publication out to people in their field so they can read it. They want to do that in as timely a manner as possible. The way in which the process is expected to occur is much different now than it was 20 years ago. It would take you six or nine months to get reviews back. That's just not expected anymore. Everything is expected to be much more efficient now. I think efficiency, speed, and customer service are the things that are changing.
What led to your interest in corrosion engineering?
I did my undergraduate work in chemistry. I think I've always been—even when I was in high school—interested in science. I didn't really know what I wanted to do after my undergraduate work, and I went to work at the Johns Hopkins University Applied Physics Laboratory. That's when I really first got interested in academic research. I enjoyed the project I was working on there. I liked it from a technical aspect; it seemed like it was a good fit for what I liked about chemistry. It was corrosion related and I liked electrochemistry, even as an undergraduate. It kind of went from there. I went back to graduate school and it just kind of snowballed from there.
What kind of research are you currently working on?
All of my research is pretty academic, but it does have applied applications in the real world. I'm working on projects with the U.S. Department of Defense. Each project has a very specific application. For example, the alternating current (AC) project I'm working on deals with buried pipelines. The gas transmission pipelines that distribute natural gas or liquid petroleum throughout the United States are usually in what are called "shared right-of-ways" with power lines. There is some loss of that AC current from the transmission power line to the buried gas pipeline that's below it. That AC current that's running on the pipeline increases corrosion rates. If you have a buried gas pipeline, the last thing you want is increased corrosion rates—a failure that might be catastrophic in a residential or commercial area where you can have loss of lives.
Do you see a lot of interest from students in corrosion engineering?
Yeah, absolutely. When I got here, the first class that was enrolled was eight students. This fall, we have 40 students enrolled in the program. Overall between freshmen and seniors, we have 80 or 100 students enrolled in the program. I think there's a lot of excitement from students, and we have more companies that want our students for those co-op programs than we have students to supply them with.
PS: Find out about the peer review process at ECS. And learn how to publish with ECS!