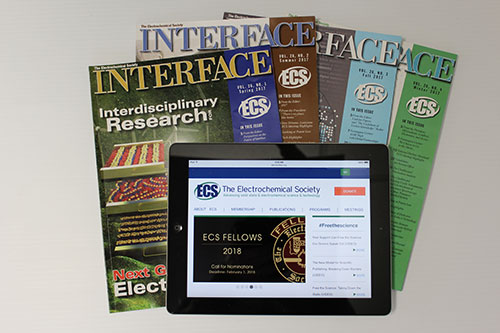 ECS has a wide array of programs to put your organization's brand in front of leaders within the electrochemistry and solid state science technology communities.
Through our marketing platforms ECS can connect your organization with your target audience and help to grow your business. Below are the platforms that your company can get involved with through ECS.
Exhibit opportunities
Showcase your products and services at the exhibitions during our biannual meetings. Watch our "Why Exhibit with ECS" video to learn more about our exhibitors.
Meeting sponsorship opportunities
ECS has sponsorship options to highlight your brand at ECS meetings. These include general meeting sponsorship, custom events, and symposium sponsorship. Below you will find the links to our brochures that lists all of our options.
---
233rd ECS Meeting
May 13-17, 2018 in Seattle, WA will be the largest spring meeting in our 116 year history with over 2,600 abstracts submitted.
AiMES 2018
A joint meeting with ECS and La Sociedad Mexicana de Electroquímica, September 30 – October 4, 2018 in Cancun, Mexico, emphasizing ECS' exposure to Latin American countries along with our worldwide attendees.
---
Interface advertising (print)
Published quarterly, Interface, the ECS members magazine, ensures that your product or service stands out to your target market who closely follow each issue to discover what new ideas and products are emerging. This publication goes to 6,200 recipients! View our most recent issue.
ECS Digital Library advertising
With 1,000+ academic and corporate institutional subscribers and over 132,000 articles and abstracts, the ECS Digital Library is home to all ECS peer-reviewed research content, serving the broad scientific and technical community. Our digital library attracts 241,000 visitors per month and is the perfect option for your digital advertising!
Weekly eNews advertising
The ECS eNews goes to 29,000 subscribers weekly and contains breaking news, important announcements, and feature stories. Place a banner ad in the eNews to get your message delivered right to ECS constituent inboxes.
Electrochem.org advertising
Put your banner ad in front of 36,000 electrochem.org visitors per month! The ECS website is the main resource our members and attendees use to get ECS information including meeting materials and society news.
Take this opportunity to get involved! If you would like to set up a phone call to discuss the opportunities available, please contact Ashley Moran, ECS corporate programs manager, at Ashley.Moran@electrochem.org.