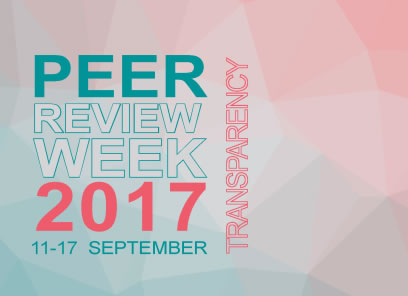 The third annual Peer Review Week will take place September 11-17, featuring a series of panels, webinars, interviews, and communications on the multidimensional and imperative topic of peer review.
Though no one peer review process is quite the same as the next, scientists around the world depend on peer review. Whatever its form—closed, open, even post-publication—good peer review ensures quality in scientific research and communication. It evaluates the legitimacy of scholarly work and offers potential for the improvement and expansion of research.
Peer Review Week is a global event aimed at honoring the fundamental role peer review plays within the scholarly community. More than that, though, Peer Review Week extends authors, reviewers, and thinkers worldwide an opportunity to analyze the construct of peer review in its many shapes—to assess its many challenges and successes while considering its future.
The theme of Peer Review Week 2017 is "Transparency in Review." The week's events will deliberate what transparency means in peer review and examine its connection to scholarly accountability.
The week will feature virtual and in-person events from Monday, September 11 through Friday, September 15. Be sure to check out the full listing of Peer Review Week 2017's activities.
Of particular note is a panel on transparency in peer review, which will take place on Tuesday, September 12 at 5:30 pm CST following the Peer Review Congress. The panel will be moderated by Alice Meadows of ORCID and will feature four panelists with research, publishing, and scientific backgrounds.
If you'll be in Chicago on September 12, you may register to attend the event for free from Peer Review Week's website. If not, you will be able to watch a livestream of the panel @PeerRevWeek.
Interested in doing more during Peer Review Week? It's not too late to get involved. Encourage your organization to celebrate the week by hosting events and thanking its reviewers.
To keep up with all the events of Peer Review Week 2017, be sure to follow #PeerRevWk17 and #TransparencyinReview. Further the discussion by sharing your thoughts on peer review @PeerRevWeek.