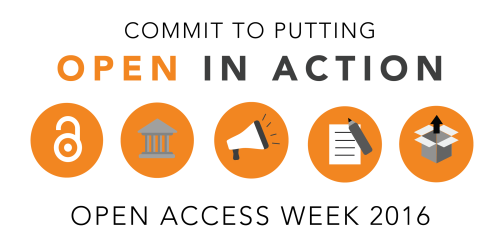 Open Access Week is fast upon us, and this year's theme is "Open in Action." ECS's participation in Open Access Week is a preview of our vision to Free the Science, a future where authors can publish with us for free and readers can access our Digital Library without paywalls (find out more about what we're doing to celebrate).
In the spirit of this year's theme, ECS has created a list  of "action items" to help you make the most of the week:
Leading up to OA Week
Find out if your institution is holding any events this year — we recommend checking your library website and openaccessweek.org.
While you're there, don't forget to RSVP for ECS's event (and please forward it on to those who may be interested).
Commit to putting "Open in Action" by signing this great "Action Portal" created by SPARC!
Ask Us Anything on Reddit: Dr. Gerald Frankel and Roque Calvo will be holding an AMA on r/science Thursday, October 20, at 1:oo (EST) — come equipped with your best questions about OA, ECS, and Free the Science!
During OA Week
Visit the ECS Digital Library to see our vision of the future (and to download some free papers!)
Attend an Open Access related webinar or talk.
Talk to your fellow researchers about publishing your next paper OA.
Catch up on what ECS is doing with our Free the Science initiative by watching our new video.
Are we missing anything? If so, please let us know in the comments below! How are you celebrating Open Access Week this year?