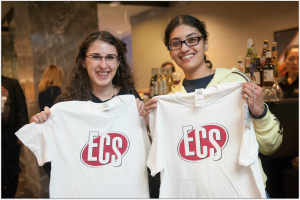 Every ECS student chapter is eligible to receive up to $1,000 USD in funding per year!
A great way to take advantage of this funding is to use it towards new member recruitment meetings and events. Increasing your chapter size with dedicated students is important because it can help your chapter work towards earning the ECS Outstanding Student Chapter Award with fresh ideas and minds!
Consider having an open meeting a couple of times a year for recruitment.
At these meetings offer free food and drinks as an incentive to coming.
Offer a giveaway. A giveaway could be something like an ECS t-shirt or pen.
Bring in a guest speaker that may spark interest in your ECS chapter on campus.
Free food and drinks.
Most importantly, let them know what ECS is all about!
A couple of key benefits to joining ECS to focus on for recruitment:
Eligible for student grants, fellowships and awards
Generous discounts to present abstracts at biannual ECS meetings
Networking opportunities
Complimentary article processing waiver to publish an open access paper in an ECS journal
All of these incentives can be fully paid for by ECS with approval by submitting an ECS Reimbursement Form.