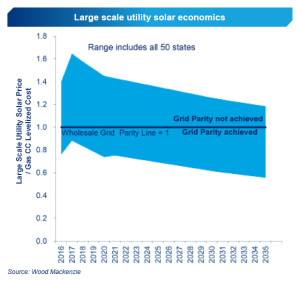 Countries around the world have been embracing solar energy with open arms – just take a look at Germany or Switzerland. In the United States, however, solar energy has made its way into the mainstream, but has not gone as far as many environmentalists would like. With the advances in drilling technology in the U.S., one is left to wonder what the next big breakthrough in the nation's energy supply will be.
The Wood Mackenzie consultant agency out of Scotland believes the next big thing in energy in the U.S. will be solar, and they've got some pretty solid reasons.
This from USA Today:
In a new study called "Is Solar the Next Shale?", Wood Mackenzie says steep reductions in the costs of making solar modules put that technology in a strong position to compete with other forms of electric power in many parts of the U.S.
Economically, large-scale solar installations are already on the same playing field as gas combined-cycle and combustion plants. Wood Mackenzie believes that by 2020, parity between the two entities will exist in 19 states, increasing to 38 by 2030.
Even though the economics are promising, solar will continue to be a very small part of the U.S. total electric generating capacity. Projections show solar coming in at six percent of the nation's energy generation by 2035, compared to just one percent now.
But a relatively small amount of solar capacity can go a long way toward disrupting electric power markets. For example, solar power, obviously, contributes the most during the day, when the sun is shining and demand for electricity is often at its peak. That's also when fossil-fuel power plants, including natural gas units, whose market share has been growing with the shale boom, make most of their money.
Read the full article by veteran energy journalist Bill Loveless here.
If you're interested in the future of global renewable energy, you're going to want to check out the ECS Conference on Electrochemical Energy Conversion & Storage with SOFC-XIV this July in Glasgow!
Submit your abstracts for this conference now!
Deadline Feb. 20, 2015
And while you're waiting for registration to open, feel free to meet the organizers behind the meeting. We think you'll be impressed.