1. Sold out exhibit floor!
Not only is the 233rd ECS Meeting in Seattle (May 13-17, 2018) the largest ECS spring meeting to date, the exhibit floor is sold out and will feature more industry leading companies than ever before including these first time exhibitors:
See who else is exhibiting in Seattle!
2. Career expo/career services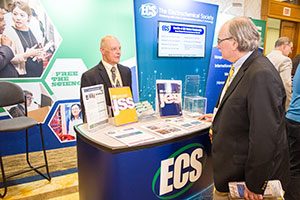 Visit the ECS Career Expo and have a free professional portrait taken, get your resume reviewed, learn more about ECSarXiv, the new free online service for preprints, and maybe discover a career opportunity with the Korea Institute of Science and Technology.
View the exhibitors that will be at the career expo.
3. Networking breaks with coffee!
We have added a second coffee break that will take place on the exhibit floor at 1530h on Tuesday and Wednesday! Enjoy a cup of coffee while networking with exhibitors.
4. New exhibit hours/Monday night poster session
The exhibit floor will now be open on Monday night, directly following the plenary session, along with an additional poster session.
5. Raffles every night!
Stop by the ECS booths on the exhibit floor (booth # 401 & 500) to enter our raffles or play ECS trivia to win prizes! ECS staff will also be available to answer questions regarding the meeting or our programs.
Raffle prizes:
half-page Interface ad
Monographs
free meeting registration for AiMES
free 5-year membership
APC