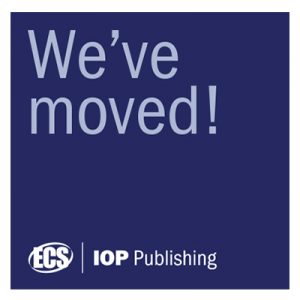 Pennington, NJ – (January 2, 2020) – The Electrochemical Society (ECS) announces that as of January 2, 2020, ECS journals are published and available through IOP Publishing (IOPP), the publishing company of the Institute of Physics.
IOPP partners with ECS in the publication of the Journal of the Electrochemical Society and the ECS Journal of Solid State Science and Technology and the hosting of ECS Transactions, ECS Meeting Abstracts, and Interface as well as the hosting of the archives for ECS's retired publications—ECS Electrochemistry Letters, ECS Solid State Letters, Electrochemical and Solid-State Letters, and ECS Proceedings Volumes.
Christopher Jannuzzi, ECS executive director and CEO, said: "ECS is very pleased to announce the launch of its publishing partnership with IOP Publishing. ECS has a 117+ year reputation for creating outstanding, peer-reviewed periodicals, conference proceedings, and magazines. Together with IOPP, we have over 200 years of experience providing outstanding publishing services for the scientific community. IOPP shares our core values and long-standing commitment to ensure the technical quality of the works published, as well as the integrity and validity of the peer review our community provides. Our partnership with IOP Publishing is an important step towards fulfilling the aim of our Free the Science initiative: to offer universal platinum open access to ECS journals—free to publish and free to read for all. Clearly, IOPP is the right partner to achieve these lofty goals."
Antonia Seymour, publishing director at IOPP, said: "As a society publisher, partnering with like-minded societies is a key part of IOPP's mission. We're therefore delighted ECS has chosen us to publish its journals, including the Journal of The Electrochemical Society, which is the oldest and most respected peer-reviewed journal in its field. Our partnership respects and builds on that history, while looking to the future and innovating wherever possible."
Rob Bernstein, senior publisher at IOPP said: "We're really excited about this partnership and the huge potential it holds. We look forward to supporting the ECS community and working closely with ECS to achieve their publishing goals."
About The Electrochemical Society (ECS)
ECS is the global leader in advancing theory and practice at the forefront of electrochemistry, solid state science, and technology. A nonprofit professional organization founded in 1902, the Society has 8,000+ individual and institutional members in 85+ countries. Our members' research enables solutions to the major challenges facing the planet: renewable energy, clean transportation, communications, and more. ECS hosts meetings, publishes scientific papers, fosters training and education, and cooperates with other organizations.
Learn more about the history of ECS at www.electrochem.org/history-ecs.
About IOP Publishing
IOP Publishing provides publications through which leading-edge scientific research is distributed worldwide. IOP Publishing is the publishing company of the Institute of Physics, a not-for-profit society. Any financial surplus earned by IOP Publishing goes to support science through the activities of the Institute. Go to http://ioppublishing.org or follow @IOPPublishing.
Media contact
The Electrochemical Society
Beth Craanen
Director of Publications
609.737.1902 ext. 103
Beth.Craanen@electrochem.org
IOP Publishing
Simon Davies
Senior PR Officer
+44 (0) 117 930 1110
Simon.davies@ioppublishing.org