ECS Meeting Sponsorship
Upcoming ECS exhibit and sponsorship opportunities:
Exhibit & Sponsor Deadlines:
For more information, please contact sponsorship@electrochem.org.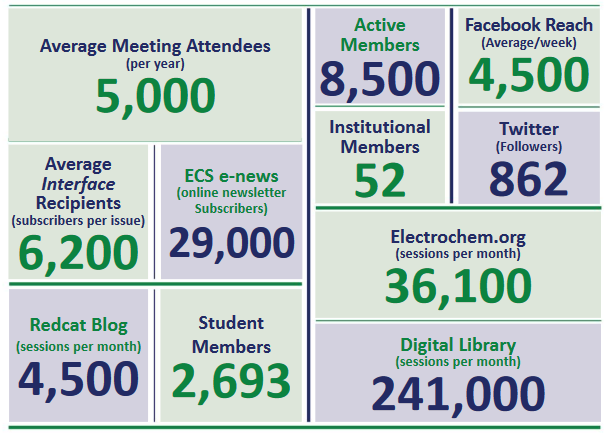 Introduce your organization to thousands of scientific leaders when you take advantage of ECS meeting and event sponsorships! To enhance the quality of ECS meetings, corporations may sponsor a variety of activities — from symposia to special events — and be recognized worldwide as a supporter of electrochemical and solid-state research.
ECS meeting sponsorships are available at a variety of levels. Custom sponsorship packages are also encouraged and can be created to fit your company's needs. Please note that sponsorship opportunities are on a first-come, first-served basis.
Symposium sponsorship
ECS meetings have provided a forum for the exchange and dissemination of the latest scientific developments in the electrochemical and solid-state sciences for over 100 years. Meetings typically have more than 2,000 technical papers presented in roughly 45 topical symposia.
In addition to our general meeting sponsorship packages, we offer symposia sponsorship. Sponsor a technical symposium and support the travel expenses and registration fees of invited speakers, students and researchers with limited financial resources. Corporate support of symposia enhances the quality of presentations in the subjects that are most pertinent to your products and services.
Fund for organizers
Symposium organizers may also request funding from sponsoring ECS Divisions for their symposium. Here's the symposium funding request form.