ECS meetings are the right place to exhibit
From visibility to credibility, exhibiting at ECS meetings is right for your organization. The Society provides a powerful platform for meeting major new customers while enhancing relationships with current customers from around the world. Your presence at ECS's leading industry events positions your brand as serious and reliable—and it's a great way to build buzz for new products! Showcasing what you do is the fastest way to grow market share.
Solidify and strengthen your brand with ECS sponsorship
Sponsoring events at ECS meetings gives your brand even more visibility and reinforces your position as an industry leader. Companies can choose from a wide array of activities—from symposia to special events—which deliver worldwide recognition as a supporter of electrochemical and solid-state research—and enhance ECS meetings.
You don't have to be a scientist to know that your company gets a positive charge from ECS meeting sponsorship! Choose from a variety of sponsorship levels or a custom sponsorship package, tailor-made to meet your business goals.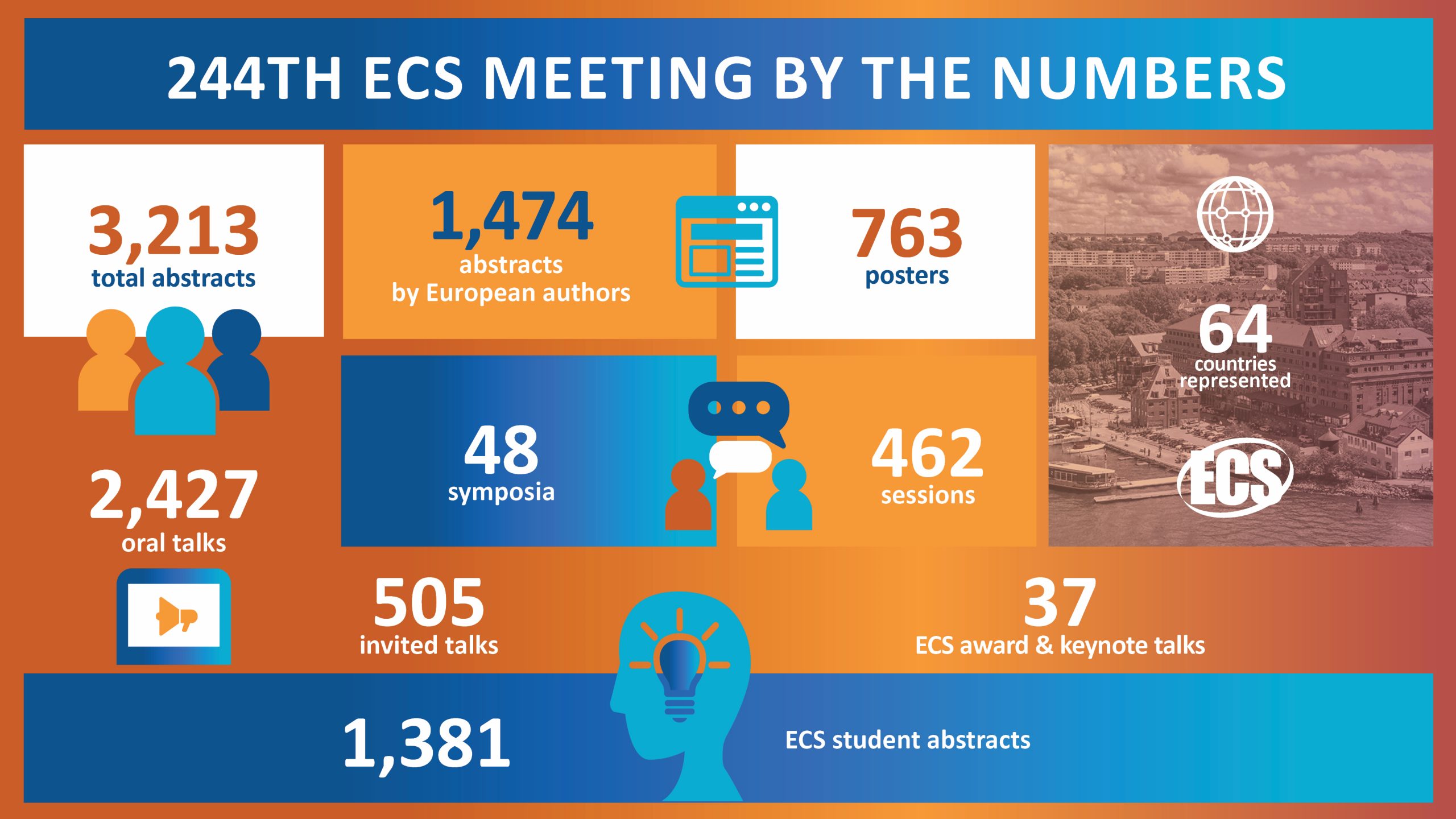 Contact sponsorship@electrochem.org for more information – we're happy to help!
---

Technical exhibit
Showcase your products and services on our exhibit floor during our biannual meetings and satellite meetings. The ECS exhibit includes the greatest innovations in the industry including cutting-edge instruments, materials, systems, publications, and software, as well as other products and services.
Each 10 x 10 exhibit booth comes with the following benefits:
Standard 10'x10' exhibit space with 8' high back wall and 3' high side drapes
One 7"x44" single line ID sign
One 6' draped table with two side chairs
One wastebasket
One complimentary full meeting registration
Two complimentary exhibit-only meeting registrations
Brand exposure in meeting advertising, online program, website, and signage
Logo with exhibitor listing in meeting advertising and on the website
Access to the exhibitor lounge
View our event brochures for more information on pricing and custom meeting options.
Symposium sponsorship
ECS meetings have provided a forum for the exchange and dissemination of the latest scientific developments in the electrochemical and solid-state sciences for over 100 years. Meetings typically have more than 2,000 technical papers presented in roughly 50 topical symposia. Sponsor a technical symposium and support the travel expenses and registration fees of invited speakers, students and researchers with limited financial resources.
Corporate support of symposia enhances the quality of presentations in the subjects that are most pertinent to your products and services. Benefits include:
Recognition in the ECS Transactions proceedings volume for that symposium
Brand exposure in meeting advertising, online program, website, and signage
Recognition in emails to funding recipients
Free ad in meeting advertising (depending on sponsorship level)
Complimentary meeting registration (depending on sponsorship level)
View our event brochures for sponsorship levels and pricing.
Sponsor & Exhibit deadlines
245th ECS Meeting
May 26-30, 2024 – San Francisco, CA
Marriott Marquis San Francisco
– Important Deadlines
PRiME 2024
October 6-11, 2024 – Honolulu, HI
Hawaii Convention Center & Hilton Hawaiian Village
– Important Deadlines
For more information, please contact sponsorship@electrochem.org.