ECS President | 1915-1916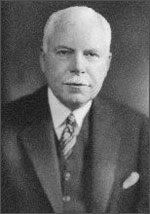 Lawrence Addicks was born in Philadelphia, PA on March 3, 1878. He received a B.S. degree from Massachusetts Institute of Technology in 1899. He worked as a draftsman in New Mexico for a year before joined Raritan Copper Company in 1900. He was in charge of the testing laboratory and later became assistant to the superintendent. From 1905 to 1914, Addicks was Chief Engineer and Superintendent for U.S. Metals Refining. In 1914, he resigned and became a Consulting Engineer. During World War I, He served on the Naval Consulting Board. He authored many technical papers on copper and copper refining. He also edited "Silver in Industry" published by Reinhold Publishing Company in 1940.
At some point in his career, Addicks received an honorary doctor's degree. Dr. Addicks, the 13th President of The Electrochemical Society, must have been an excellent speaker since he was chosen to give the banquet address at both the 20th and 50th anniversary meetings of the Society (1922 and 1952). He was a member of many societies: Mechanical Engineering, Mining Engineering, Society of Testing Materials, Mining and Metallurgical Society, Institute Mining and Metallurgy, London; and a Fellow of the Society of Electrical Engineering.
Dr. Addicks died at the age of 85 on January 16, 1964.