ECS President | 1909-1910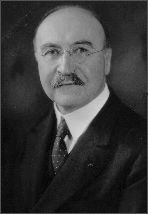 Leo Hendrik Baekeland was born on November 14, 1863 in Gent, Belgium. He received a B.S. from Ghent University and a Sc.D. from the same school in 1884. The University of Pittsburgh conferred him with an Honorary Doctor of Chemistry in 1916. Dr. Baekeland was an Assistant Professor of Chemistry from 1885 to 1889; Associate Professor 1888-89 at Ghent. He was also Professor of Chemistry and Physics of the Higher Normal School at Bruges from 1885 to 1889. he came to the United States in 1889 and worked as a consulting chemist to 1899. He became a Research Chemist and Honorary Professor of Chemical Engineering at Columbia University, 1899 to 1916. His research work included physical, general, industrial, and organic chemistry; synthesis of resinoids and intermediate bodies resulting from the action of phenols upon formaldehyde; photographic processes; electrical insulation; Velox; and Bakelite.
He was a member of the U.S. Dept. of Commerce Chemical Advisory Committee; Chandler Lecturer at Columbia, 1914; Naval Consulting Board, 1915; Nitrate Supply Commission, 1917; National Research Council; and administrative board of the Institute Int. Education.
Dr. Baekeland received many awards: the Nichols Medal of the Chemical Society, 1909; Gibbs Medal, 1913; Scott Medal of the Franklin Institute 1910; Chandler Medal of Columbia 1914; Grand prize of the Panama-Pacific Exposition, 1915; Perkin Medal of the Society of Chemical Industries, 1916; Order of the Crown, Belgium, 1919; commander, Order of Leopold, Belgium, 1924; and Officer, Legion d'honneur, 1923.
Dr. Baekeland was elected President of The Electrochemical Society in 1909. He also was President of the Chemical Engineering Society in 1912 and the Chemical Society in 1924. He served as Vice-President of the London Society of Chemical Industries in 1905.
One of Dr. Baekeland's inventions made the news in 1995. The heat shield on the 1995 Jupiter probe was a phenolic resin based on phenol and formaldehyde. The first phenolic resin, Bakelite, often used in pot handles, was invented in 1909 by Leo Hendrik Baekeland the same year he was President.