ECS President | 1938-1939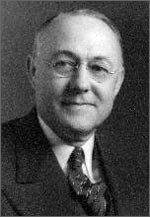 Robert L. Baldwin was born in Chicago, Illinois on September 8, 1884. In 1895, he moved with his parents Conneaut, Ohio. On graduating from high school there in 1901, he went to Chicago where he found employment in the freight Department of the American Steel and Wire Company. Early in 1902, he was transferred to the Chemical Laboratory of the Newburgh Works the Company at Cleveland, Ohio. From the Laboratory, he went on to the Bessemer Department and later on to the Open Hearth Department of the mill. In July 1909, he resigned to go to New York to accept a position as field representative of a fire insurance company. In 1912, he joined the staff of Mr.W. R. Walker, assistant to the President of United States Steel Corporation. There he was engaged in the introduction and exploitation of the Heroult electric furnace. It was at this time he first became connected with the electrochemical industry. In 1920, he resigned to become Manager of Sales of Republic Carbon Company. In 1938, the Company plant was acquired by National Carbon Company. He was made Sales Development Manager of the Electrode Division of National Carbon Company.
Mr. Baldwin's many years of close association with the electrode and furnace industries gave him a background which was very helpful in working out problems of joint interest to electrode users, electrode makers, and furnace manufacturers.