ECS President | 2019-2020
ECS Vice President | 2016-2019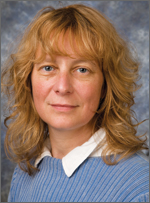 Christina Bock is Senior Research Officer at the National Research Council of Canada (NRC) where she has served as technical leader for NRC's "Energy Storage for the Renewal of the Electrical Grid Program" and was directly involved in establishing and leading a NRC-industry consortium on the value chain of Lithium-ion batteries.  She still leads an R&D team on Energy Storage Materials and Formulations at the NRC. Her research at the NRC consists of a variety of projects that encompass both fundamental research work, including the guiding of graduate students, and working directly with industrial collaborators. She has worked closely with many companies as Hydrogenics, Ballard, AFCC, Toyota and more recently she is working closely with Canadian companies on the supply chain for and recycling of batteries. She is also initiated a multi-partner R&D project on alkaline water electrolysis.
She has made many significant contributions to electrochemistry including the oxidation of organics for waste water treatment, electrocatalysis for direct methanol and proton exchange membrane fuel cells, as well as hydrogen and oxygen evolution catalysts and super-capacitors. She carried out many classic R&D projects and conducted projects with diverse collaborators and industry, i.e., Forschungszentrum Juelich, AFCC, Ballard, Hydrogenics, and Toyota Motors Corp. She has co-supervised PhD students jointly with the University of Ottawa and served as external expert for numerous PhD and MS students' theses. She served on many committees evaluating national laboratories and funding new university programs outside Canada.
She is the author of over 65 research articles (including invited contributions and review papers). She is the co-author of numerous original research articles in well-regarded journals as well as five book chapters. She has written numerous reports for industrial collaborative projects and holds U.S. and Canadian patents as well as world-wide patent applications.
Christina has been an ECS member for over 30 years and was awarded the honor of Fellow of the Electrochemical Society. She has served on numerous committees including Ways and Means, Technical Affairs, and Education. She chaired the ECS Canada Section, ISTS, and while on the ECS Board of Directors, chaired the Council of Sections, Sponsorship Subcommittee, and New Technology Subcommittee. She has also served as Treasurer and Vice-President of the Society.  She has presented many papers at ECS meetings, published in ECS journals, organized symposia, and chaired sessions. She initiated the ECS's E2S electrochemical energy summit series together with Johna Leddy in 2011 and is a promoter of Diversity and Inclusion in Science.