ECS Treasurer | 2018 – 2022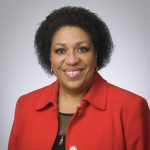 Gessie Brisard is Professor of Chemistry at the Université de Sherbrooke where she obtained a PhD in 1990. Upon completing postdoctoral studies at Lawrence Berkeley National Laboratory, she joined her alma mater in 1992 as Assistant Professor in the Chemistry Department and became a full professor in 2004. Professor Brisard also served as Vice Dean of Academia and Secretary of the Faculty of Science from 2007-2010. Her knowledge and expertise on electrochemistry in nonaqueous solvents of the interfacial behavior of non- aqueous electrolytes, with application to lithium batteries and metal deposition in nonconventional media, have led to successful collaborations with the Institut de recherche d'Hydro-Québec and Alcan, the Canadian mining company and aluminum giant.
Prof. Brisard became an ECS student member in 1986 and received the ECS Canada Section Student Award in 1989. She planned numerous symposia for the ECS Canada Section and ECS biannual meetings, namely the long-standing Electrocatalysis symposium that she started with the late Prof. Andrzej Wiechowski. Her extensive committee participation profile in the areas of governance, meetings, and publications, includes service on the Council of Sections, Symposium Planning Advisory Board, and Letters and Interface Advisory Boards. Prof. Brisard chaired the ECS Physical and Analytical Electrochemistry Division and served on the ECS Board. The ECS Canada Section received the Gwendolyn B. Wood Section Excellence Award when she was chair.