ECS President | 1995-1996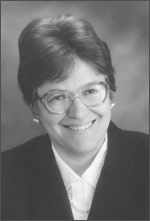 Kathryn Rice Bullock was born in Bartlesville, Oklahoma on September 24, 1945. She received a B.A. in English with a chemistry minor from the University of Colorado, Boulder in 1967. She became interested in electrochemistry while working as a Research technician on Ni/Zn batteries at Gates Company, Denver. She enrolled in Northwestern University for graduate work. In 1969, she was an Electrochemical Society Summer fellow and earned an M.S. in Chemistry. She became a National Institutes of Health Fellow and obtained her Ph.D. in physical chemistry in 1972.
Dr. Bullock returned to the Electrochemical Research Department of Gates Company in 1972 where she worked on a valve-regulated lead-acid battery design since licensed and produced world-wide. She began work on the effect of phosphoric acid additions on the lead dioxide electrode. She continued this work after joining Globe-Union, Inc. in Milwaukee in 1977. Dr. Bullock received the Battery Division Research Award for her work on phosphoric acid effects in 1980. That same year she was promoted to Manager of the Chemical Research Department of Globe-Union which became a Division of Johnson Controls, Inc. She became a Certified Professional Chemist in 1982.
Dr. Bullock joined AT&T Bell Labs in 1991 to establish a battery development group in the Power Systems Business Unit at Mesquite, Texas and Murray Hill, NJ. She was responsible for new product development, current engineering, technical support, and the quality of purchased products. She was a member of the Power Systems quality team which won the prestigious Deming Prize of the Japanese Union of Scientists and Engineers in 1994.
Dr. Bullock joined Medtronic, Inc. Promeon Div., Brooklyn, Minnesota in 1996 as Development Manager responsible for developing lithium batteries and other power sources for implantable medical devices, supporting manufacturing, systems development, and quality organizations.
Dr. Bullock authored or co-authored more than 50 technical papers and has 6 U.S. patents.
Dr. Bullock joined The Electrochemical Society in 1972 and became active in many areas of the Society. She helped organize the Rocky Mountain (1973) and Southern Wisconsin (1982) Sections. She was Section Councilor for 5 years and Chairman of the Council of Sections from 1985-86. She was Vice-Chairman of the Battery Division (1990-92) and Technical Advisor to the Battery and Corrosion Divisions for the Technical Affairs Committee. She also served on many other committees: Honors and Awards, Nominating, Contributing Membership, and Education. She organized many symposia and was co-editor of the proceedings volume on Advances in Lead-Acid Batteries. Dr. Bullock was elected Vice-President of the Society in 1992 and served as President in the term 1995-1996.
Dr. Bullock received many honors and awards: Gaston Plante Medalist, Bulgarian Academy of Sciences (1996), Fellow of Royal Society of Chemistry (1988) and American Institute of Chemists (1987), ECS Battery Division Research Award (1980), Phi Beta Kappa (1966).