ECS President | 1907-1908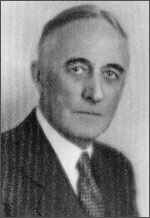 Charles Frederick Burgess was born in Oshkosh, Wisconsin on January 5, 1873. He graduated from the University of Wisconsin with an electrical engineering degree in 1895. He then took up a study of physical chemistry and electrochemistry while teaching. He became well known for his research on electrolytic iron and dry cells. He founded the Burgess battery Company and published many of his research and developments in the transactions of the Society. He and his organization were engaged in many technical developments: dry batteries, acoustical products, measuring instruments and methods for noise control, the utilization of wood wastes, development of new clay products, and building materials.
Charles Burgess was elected to President of The American Electrochemical Society in 1907. He was awarded prestigious Perkin Medal on January 8, 1932 "in recognition of his outstanding accomplishments and achievements, notably in the field of electrochemistry". He was made an Honorary Member of The Electrochemical Society in 1932 and received the Edward Goodrich Acheson Medal Award "for his many and varied inventions and accomplishments" on October 8, 1942.