ECS President | 1969-1970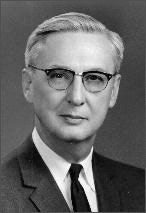 Nelson Cory Cahoon was born in Bloomfield, Ontario, Canada on October 12, 1904. He received his A.B. and M.A. degrees from the University of Toronto in 1925 and 1926, respectively, his research being done under Dr. W. Lash Miller. His entire professional career was spent in the field of batteries with the Union Carbide Corp.
He began by joining the Canadian National Carbon Co., Toronto in 1926 as control chemist. In 1928, he was transferred to the Fremont, Ohio organization of the National Carbon Co. as development engineer. In 1934, he moved to the Research Laboratories in Cleveland to join the newly organized Union Carbide Corp. research group for the study of the electrochemistry of primary batteries. He became group leader in the study of basic battery systems in 1953. He moved from the Research Laboratories to the Development Laboratories as technical assistant to the Resident Director of Development in 1958. He became Senior Scientist in the Electrochemical Development Laboratories of the Consumer Products Division of Union Carbide Corporation, Cleveland, Ohio in 1963.
The technical work which Mr. Cahoon was assigned covered many areas of theoretical and applied battery technology. Studies of the electrolyte equilibria, electrochemical methods of evaluating manganese dioxide types for battery use, the role of the surface area, and pore structure of oxide for optimum battery performance provided important fundamental information. One result was the selection of electrolytic manganese dioxide for premium quality batteries still recognized as the optimum material. Another development which improved battery quality was a series of separator materials based primarily on synthetic plastics. Mr. Cahoon's work on the mechanism of the cathode reaction provided the industry with a theoretically sound approach to long-life high capacity cells consistent with the practical demands of manufacture and operation. During World War II, he helped introduce the chlorine-depolarized cell as a high capacity unit for specialized applications. Most of his work was presented at Electrochemical Society meetings and/or published in the JOURNAL. Ten U.S. Patents were awarded to him as inventor or co-inventor. He was co-editor with Mr. G. H. Heise of the book "Primary Batteries" sponsored by the Battery Division and the Society.
Mr. Cahoon joined The Electrochemical Society in 1937. He was active in the Cleveland Section, the Battery Division, and the International Society. He served the Cleveland Section as an officer and represented the Section on the Council of Sections. He was the Battery Division Editor, 1946-1952, Vice-Chairman of the Division, 1952-1954, and Chairman 1954-1956. He served as member and chairman of many standing committees of the Society. In 1966, he was elected Vice-President of the Society and President in 1969.