ECS President | 1968-1969
ECS Secretary | 1959-1965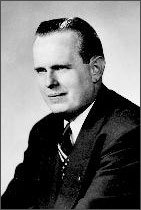 Ivor Eugene Campbell was born in Kenton, Ohio on October 16, 1919. He received the A.B. degree in chemistry and mathematics from Evansville College in 1940 and the Ph.D. degree in inorganic chemistry from Ohio State University in 1943. In 1948, he received the L.L.B. degree from Franklin University and, in 1966, the J.D. degree from Capital University. In 1963, Dr. Campbell was awarded an Honorary Doctor of Science degree by Evansville College, his undergraduate alma mater.
In 1943, Dr. Campbell joined Battelle Memorial Institute as research chemist. He was named assistant supervisor of the Division of Inorganic Chemistry and Chemical Engineering in 1951.In 1959, he became Director, Research and Development, National Steel Corp., Weirton, W. Va. He held the position until 1963 when he became President of United Metallurgical Corp., Berkeley, CA. In 1965, he joined the staff of Westinghouse Electric Corp. as Director of Staff Programs, Headquarters Engineering. Later he became Engineering Manager of the Semiconductor Division of Westinghouse.
Dr. Campbell was an author of about 50 papers and recipient of 11 patents. His work was involved mainly with physical chemistry, vapor plating, the preparation of high purity metals, and refractory coatings. He coauthored the ECS monograph "Vapor Plating" (1955), was editor of "High Temperature Technology" (1956), and coauthor of "High Temperature Materials and Technology" (1967).
Dr. Campbell was elected Secretary of The Electrochemical Society in 1959, Vice-President in 1965, and President in 1968. He served on numerous committees of the Society. He was made an Honorary Member of the Society in 1976.
Dr. Campbell was also a member of the American Chemical Society, the American Institute of Mining and Metallurgical and Petroleum Engineers, and the Institute of Electrical and Electronic Engineers.