ECS President | 1939-1940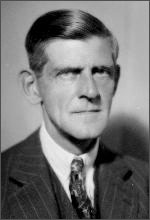 Dr. H. Jermain Creighton was born in Dartmouth, Nova Scotia on March 2, 1886. He attended Dalhousie University at Halifax, Nova Scotia and received his B.A. degree in 1906 and his M.A degree in 1907. He then received a fellowship and spent the next two years at Birmingham, England receiving a Master of Science degree in 1909. He next spent a year at Heidelberg University and another year at the Polytechnikum at Zurich, Switzerland where he obtained his Doctor of Science degree. Returning to Dalhousie University, he lectured on physical chemistry until 1912 when he was invited to Swarthmore College, Pennsylvania. He became head of the Chemistry Department of Swarthmore in 1928. He retired in June 1952 after 40 years of teaching at that institution. During this time, his work made him famous and brought him many honors. The Franklin Institute awarded him the Longstreth Medal in 1910. He authored many textbooks on electrochemistry used in many American and British universities.
Not only was Dr. Creighton one of the foremost teachers of electrochemistry, but he also invented a commercial process for the production of alcohol from sugar by electrolytic reduction. By this process, for example, glucose is converted to sorbitol. Sorbitol has two principle values: first, as a moistening and softening agent; second sorbitol is an intermediate in chemical synthesis. The most important derivative at that time was ascorbic acid (vitamin C). Dr. Creighton was awarded the Howard N. Potts Gold medal for this work.
Dr. Creighton was elected President of the Society 1939. He received the Edward Goodrich Acheson Medal and Prize Award of the Society in 1946.