ECS President | 1935-1936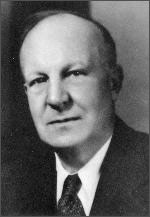 James H. Critchett was born in Watertown, Mass. in 1886. His technical education was obtained at Massachusetts Institute of Technology graduating in 1909. He was employed by the U.S. Steel Corporation at the South Chicago plant. His first job was on the installation of one of the first large electric steel furnaces to be installed in America. Later he became assistant superintendent of the Electric Furnace Department. The following years were spent in the construction and starting of Buchanan Steel Foundries. His work took him to Niagara Falls, N.Y. on the erection of additions to the Hooker Electrochemical Company Plant. His next business connection was as assistant to Dr. F. M. Becket of the Electrometallurgical Company at Niagara Falls until 1921. At that time, the Union Carbide & Carbon Research Laboratories were organized and installed at Long Island City, N.Y. He functioned as manager of the Metallurgical Divisions of the Laboratories until transferred to the New York Office of the Corporation as Vice-President of the Research Laboratories.
Mr. Critchett was "a very active member of The Electrochemical Society contributing freely both his time and valuable counsel to the best interests of the Society". He was elected President in 1935.