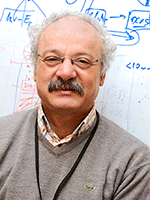 Simon Deleonibus began his career at Thomson Semiconductors, where he co-invented the contact/via plug technology principal in 1984. This technology is used today as a standard by the microelectronics industry in all integrated circuits produced worldwide. Deleonibus went on to join CEA Leti in 1986, where he currently serves as the Research Director. Here, he developed a recognized expertise on process modules like filed isolation, especially on Flash memories.
Earlier in his career, Deleonibus realized the world's smallest transistor at the Electronic Nanodevices Laboratory. During this time, he and his team pioneered numerous breakthrough process modules for future miniaturization of integrated circuits.
Among his many accomplishment, Deleonibus was awarded the IEE Fellow award in 2006 for his "contributions to nanoscaled complementary metal oxide semiconductor (CMOS) devices technology." He has served as associate editor for IEEE Transactions on Electronic Devices (2008-2014) and the European Physical Journal (2008-2014). He has recently edited two books on nanodevices and integrated nanosystems and has been a visiting professor at the Tokyo Institute of Technology since 2014.