ECS President | 1950-1951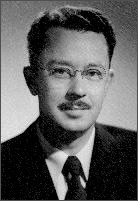 Charles L. Faust was born in St. Louis, Missouri November 8, 1906. He received an A.B. degree from St. Louis University and a M.S. degree in Chemical Engineering from Washington University. He became a graduate assistant at the University of Minnesota receiving his Ph. D degree in Chemical Engineering in 1934. For a brief period he worked at Southwestern Bell Telephone company and Western Electric before joining Battelle Memorial Institute as a Research Engineer in 1934. His principal activities relate to metal finishing and electrolytic processes. He pioneered commercial electropolishing and high speed electroplating and was awarded many key patents in the field. A total of 135 patents bear his name. His hobbies included Cub Scouts and Boy Scouts while "growing up again" with his two sons.
During World War II and afterwards, Dr. Faust served on committees of the Materials Advisory Board of the National Academy of Sciences as a member of Panels on Selenium, Gun Liner Materials, and New Processes for Machining and grinding. In 1946, he received a War Department award for his contribution to the Manhattan Project.
Dr. Faust joined the Society in 1937. His many years of service to the Society from 1938 on, in many capacities, reflect an exceptional dedication and devotion to the Society. He was Chairman of the Electrodeposition Division in 1942; a member of the Publication Committee, 1943-44 and 1946-49; Nominating Committee for Society officers 1945; General Chairman of the Columbus Convention Committee 1948 and 1959; and at various times member of award committees: Acheson Medal, Perkin Medal, Richards Memorial Lecture, and Young Authors Prize.
Dr. Faust served as a Society Manager 1943 through 1945. He was elected Vice-President of the Society in 1947 and President for the year 1950-51. He participated in a "long-range program to stabilize the Society and make it the hub of endeavor toward the advancement of the Science and Profession of Electrochemistry".
Dr. Faust was chosen to be the 17th recipient of the Edward Goodrich Acheson Medal and Prize in 1962. In 1971, the Society made him an Honorary Member. In 1961, Dr. Faust received the Scientific Achievement Award of the American Electroplaters' Society, which is their highest honor.