ECS President | 1916-1917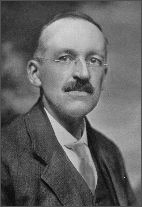 Francis Alexander James FitzGerald was born in Dublin, Ireland in 1870. He was the eldest son of a prominent Dublin physician. He received his early education in Ireland and England and graduated from Trinity College, Dublin University in 1892 (B.A.). He was that year's Moderator and Medalist in Experimental Physics. He came to the United States in 1893 to attend the Massachusetts Institute of Technology graduating in 1895 (B.S. Electrical).
Shortly after graduating from M.I.T., he went to Niagara Falls with the newly formed Carborundum Company and was put in charge of chemical control of the new product. He is credited with much of the early success of the Company. In 1900, he became research chemist with the Acheson Graphite Company which was founded that year. He contributed much to the development of the Company and its products. His private notes tell of the difficulties the pioneer electric furnace men encountered every day of there lives. In 1903, he became a Consulting Engineer under the name FitzGerald and Bennie and later The FitzGerald Laboratories. He retained a keen interest in both silicon carbide and artificial graphite from its infancy until his death in 1929.
His technical and scientific interests covered a wide field from his early training for the medical profession to novel electric furnaces and electrothermic processes. He was an ardent student of history, literature, music, and nature.
He was a charter member of the American Electrochemical Society and published many papers in its meeting Transactions. He served the Society as President in the year 1916-1917 and was Chairman of the Publication Committee during the last eight years his life. He died of pneumonia on October 26, 1929.