ECS President | 1929-1930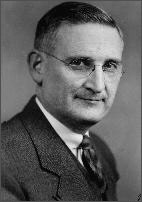 Dr. Frances C. Frary was born in Minneapolis, Minnesota on July 9, 1884. He graduated from the School of Chemistry, University of Minnesota in 1905 with the degree of analytical chemist. He received his M.A. degree from U. of Minn. in 1906. He studied at the University of Berlin, Germany in 1906-1907. He obtained his Ph.D. degree from the University of Minnesota in 1912 where he was Assistant Professor of Chemistry from 1911 to 1915. He was research chemist for the Oldbury Chemical Company, Niagara Falls 1915 t0 1917. In 1918, he was commissioned Captain in the Ordinance Dept., O.R.C. and later to Major, Chemical Warfare Service. He perfected the process for manufacturing phosgene gas on a large scale and was jointly responsible for the design and construction of the largest phosgene manufacturing plant in the world. In 1919, Dr. Frary became Director of Research for the Aluminum Company of America at New Kensington, PA. He contributed a number of important papers on the metallurgy of aluminum. He co-authored the well known handbook "Aluminum Industry". He was co-inventor of the "Frary metal" a tin-free bearing metal used in place of babbitt.
Dr. Frary was active in The Electrochemical Society affairs and was elected President in 1929. He received the Edward Goodrich Acheson Award and Prize in 1939.