ECS President | 1959-1960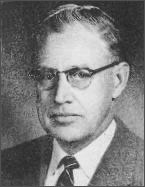 William C. Gardiner was born in Exeter, Ontario, Canada on November 14, 1904. He became a United States citizen in 1939. He received an undergraduate and Master's degree from Queen's University. He obtained his Ph.D. from Princeton University under Professor G. A. Hulett. His thesis on the Weston Normal Cell was published in the Transactions of The Electrochemical Society in 1929 and won for him the Society's first award of the Young Author's Prize.
Dr. Gardiner spent three years as a research chemist for Comstock and Wescott, Inc. in Niagara Falls working on chlorine chemistry. He joined Mathieson Alkali Works (now Olin Mathieson Chemical Corp.) in 1932 working on electrochemical research and development. His work involved mercury type alkali-chlorine cells. He became manager of research engineering in the Industrial Chemicals Division. He was active in the design, construction, and initial operation of plants using Mathieson cells at Arvida, Que.; Saltville, Va.; McIntosh, Ala.; Linden, NJ; and Monterey, Mexico. He was captain of the U.S. chlorine industry team which toured German chlorine plants after World War II and brought back working drawings and detailed operating instructions of the best practice there. He also worked on the development of a cell to produce magnesium and chlorine from hydrated magnesium chloride feed. These cells were installed at the Mathieson Magnesium plant in Lake Charles, La. where he was superintendent of the electrolytic department. He received patents on brine treatment, mercury cells, and magnesium cells. He published several papers on involving chlorine production technology. He was a consultant on electrochemical problems for several U.S. Government projects.
Dr. Gardiner joined The Electrochemical Society in 1927 and was active in the Niagara Falls Section where he served as Secretary-Treasurer and Chairman. He also served on the convention committee when the Society met in the Buffalo-Niagara Falls area. He was Chairman of the Industrial Electrolytic Division, Divisional Editor of the Journal, and a member of the Alkali-Chlorine Committee. He was elected Vice-President in 1956 and President in 1959. He served as acting President during the illness of President Swann. The Society made him an Honorary Member in 1975.