ECS President | 1964-1965
ECS Treasurer | 1955-1961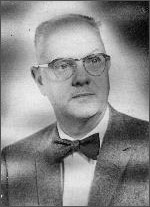 Lyle I. Gilbertson was born in Beloit, Wisconsin on July 10, 1903. He received an A.B. degree from Augustana College in South Dakota, a M.A. from the University of Wisconsin, and a Ph.D. degree from Indiana University where he was Research Fellow in Electrochemistry. Dr. Gilbertson was a son of a college professor. He began his teaching in the Chemistry Department at Carleton College. Later he joined the staff of the Department of Chemistry and Chemical Engineering at Washington State University and directed graduate research in organic and electrochemistry for 15 years. In 1942, he went to Columbia University on a leave of absence that lasted for the duration of World War II. He was associated with the Manhattan Project.
In 1946, Dr. Gilbertson joined Air Reduction Co. as Supervisor of Inorganic Chemistry. At various times he served as Administrative Manager of the Research and Engineering Department, Administrative Director of the Central Research Laboratories, and as Director of the Murray Hill (NJ) Laboratories.
Following 18 years of teaching and an equal time in industrial research, he established a research consulting business in 1962 located in Berkeley Heights, NJ. He served as Executive Vice-President of Aerospace Placement Corp. and Director of Research for Comprehensive Designers, Inc. both firms of Philadelphia.
Dr. Gilbertson's professional interests in the fields of inorganic chemistry, electrochemistry, and metallurgy. He pioneered the electrodeposition of silver as a means of producing silver bearings for aircraft engines. He developed processes for electropolishing silver and plating silver on more active metals. He became interested in selenium and its chemistry and prepared many useful selenium compounds. Another interest was on peroxyacids of sulfur, hydrogen peroxide, and ozone – their purification, concentration use, and handling. He had experience in the production and applications of industrial and medical gases, metal joining techniques, and electrothermics. He was associated with the United States Atomic Energy Commission for 14 years.
Dr. Gilbertson joined The Electrochemical Society in 1938 and immediately became active in Section and National Society affairs. He was Chairman of the New York Metropolitan Section in 1950 and many Society committees. He served as Society Treasurer 1955-1962, Vice-President 1961-1963, and President 1963-1964.