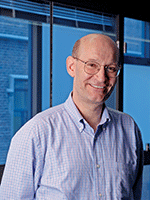 Raymond J. Gorte is currently the Russell Pearce and Elizabeth Crimian Heuer Professor of Chemical & BIomolecular Engineering—with a secondary appointment in Materials Science & Engineering—at the University of Pennsylvania. Since joining the university in 1981, Gorte's esteemed research has focused on electrodes for solid oxide fuel cells and the catalytic properties of core-shell materials. He is also known for his research on zeolite acidity and for metal-support effects, especially with ceria-supported precious metals, used in automotive emissions control.
Gorte is currently an associate editor of the Journal of The Electrochemical Society and has chaired numerous conferences, including the Gordon Conference on Catalysis (1998).
Among the many honors attributed to him, Gorte has received the Parravano Award of the Michigan Catalysis Society (1997), the Philadelphia Catalysis Club Award (1998), the Paul Emmett Award of the North American Catalysis Society (1999), the Penn Engineering Distinguished Research Award (2001), and the AIChE Wilhelm Award (2009).