ECS President | 1937-1938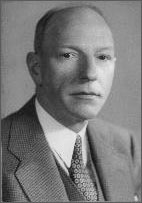 William Gold Harvey was born in Detroit, Michigan on April 21, 1885. He studied at the University of Michigan where he received a degree of Chemical Engineering specializing electrochemistry in 1908. He worked as a Chemist for Pennsylvania Salt Manufacturing Co., 1908-1912, and Chief Chemist, 1912-1914. He became interested in the experimental production of electrolytic iron and later in electrolytic caustic soda and chlorine. He continued in this line of manufacture for eight or nine years, contributing to the improvement of the electrolytic process and to the development of liquid chlorine and allied products. In 1914, he joined Aviation Materials Corp. and began the investigation of electrolytes suitable for the production of magnesium. In 1916, he moved to the American Magnesium Corp. as Superintendent and started the first plant for magnesium manufacture in Niagara Falls, N.Y. He was Sales Manager from 1923 until 1945 when he became Sales Consultant for the Aluminum Company of America at Cleveland, Ohio.
Mr. Harvey carried on research on electrolytic methods for producing calcium, barium, cerium, and beryllium. He also devoted time to the improvement of aluminum and magnesium alloys and the expansion of industrial applications for the light metal alloys.
Mr. Harvey served The Electrochemical Society as Vice-President in 1937 and became President in 1938. He was a Member of the Advisory Committee to the Bureau of Standards and during World War II Consultant to the Secretary of War.