ECS President | 1947-1948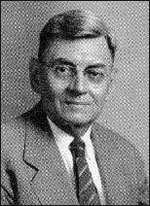 George William Heise was born in Milwaukee, Wisconsin on June 27, 1888. He received his B.S. degree at the University of Wisconsin. For the next two years, he taught at Grinnell College in Iowa and at DePaul University in Chicago where he was head of the Department of Physics. In 1911, he returned to the University of Wisconsin to work with Dr. Louis J. Kahlenberg (Society President 1930-1931). He received the M.S. degree in 1912. He continued graduate studies as Fellow in Chemistry until 1913. In 1913, he received an appointment as physical chemist and later as chief of section in the Bureau of Science, Manila, Philippine Islands.
In 1917, he volunteered for active military duty and served as captain in the Quartermaster Corps. He was later transferred to the chemical Warfare Service as director of Nitrogen Fixation Research at the Saltville, VA. plant. In 1919, he accepted a position with the National Carbon Co. where he became head of a department and later associate director of research. He reached retirement age in 1953 but continued on as a company consultant.
Mr. Heise carried out research in several fields but his chief interest was in primary batteries (Leclanche', Lalande, and Air Cell types). He also developed carbon electrodes for electrosynthesis. He worked at various locations for the National Carbon Company, Inc.: Primary Battery Laboratory, Fremont, Ohio; Union Carbide and Carbon Research Laboratories, Long Island City, New York; and Research Laboratories, Cleveland, Ohio.
During World War II, he was head of a group which developedhighly effective carbons for gas masks and catalysts for oxidation. He had the ability to translate research results into commercial realities. he authored 45 technical papers and held 85 patents, many duplicated in foreign countries. He was a member of the American Chemical Society, and a Fellow of the American Association for the Advancement of Science.
Mr. Heise joined The Electrochemical Society in 1925. he helped found the Cleveland Section and became its first Chairman. He was active in The Electrochemical Society serving on many committees. He was elected Vice-President in 1934 and 1946 and served as President from 1947-1948. He received the Edward Goodrich Acheson Award and Prize in 1954 and was made an Honorary Member in 1959.